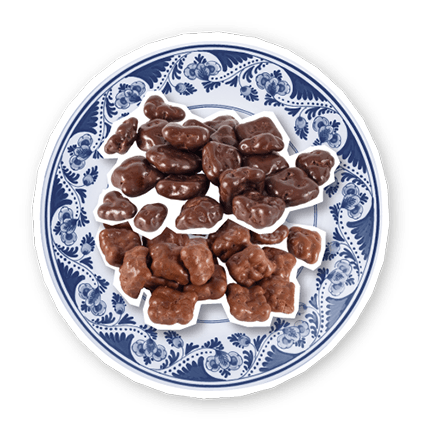 Max & Alex Chocolate Caramel Stroopwafel Chunks (Dark)
70% Stroopwafel and 30% chocolate
Delicious taste
Original Dutch product
Stroopwafel dark chocolate
Stroopwafel coated with chocolate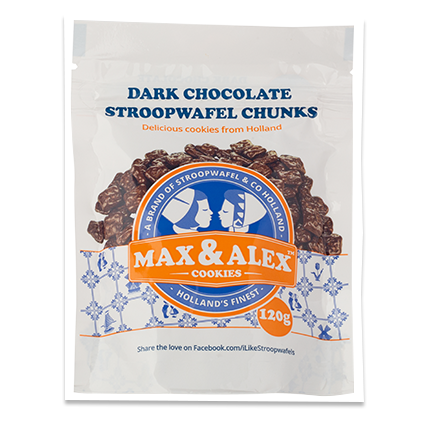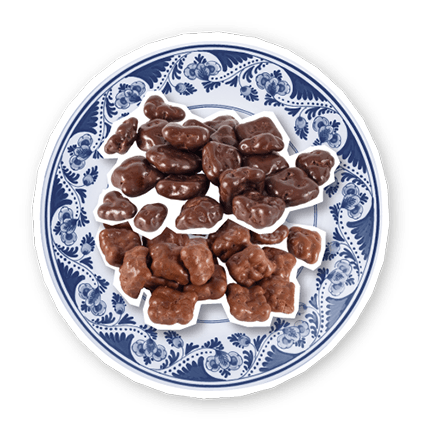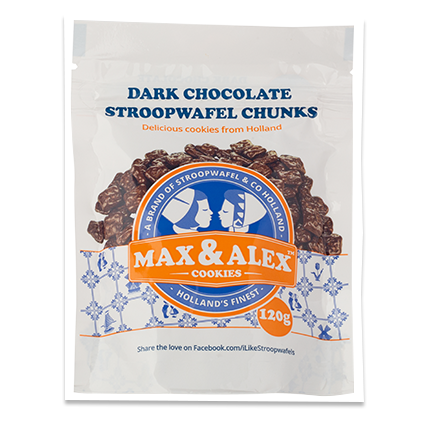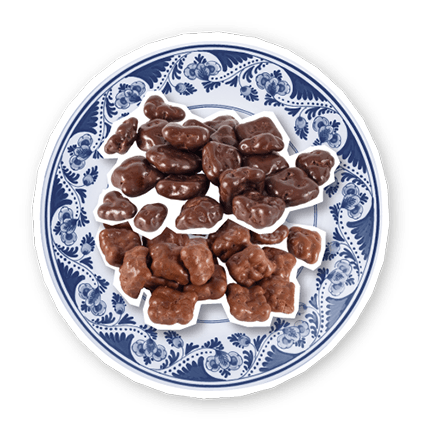 Max & Alex Stroopwafels. With a nod to the Dutch royal family, this is an eye-catcher in any environment.
70% Stroopwafel and 30% chocolate
Delicious taste
Original Dutch product
Stroopwafel dark chocolate
Stroopwafel coated with chocolate
Stroopwafel Chunks
The Stroopwafel, is originally a Dutch waffle, which is eaten not only in the Netherlands, but also worldwide. The product consists of two round dough waffle halves, with a diamond pattern, between which sweet syrup has been applied.
The chuncks are pressed from a round syrup waffle and coated with chocolate. In this process we use just freshly backed syrup waffles.
Characteristic
Max & Alex Stroopwafels – Stroopwafelchunks dark chocolate 120 grams.
Ingredients
Syrup waffle pieces 69.3% (glucose-fructose syrup 25.7%, wheat flour, vegetable fat (palm), sugar, butter (milk), sugar syrup, vegetable oil (rapeseed), starch (wheat), soy flour, raising agent, sea salt, emulsifier: soya lecithin, E471, cinnamon, acidity regulator: E330, dark chocolate 29.7% (cocoa mass, sugar, cocoa butter, anhydrous milk fat, emulsifier: soya lecithin, natural vanilla flavouring 0.1 %), glazing agent (E414, E904).
Vegetarian
The Syrup Waffles are vegetarian.
Allergy information
Contains gluten, soya and milk.
Nutrition
Nutritional value per 100 g:
Energy 2044 KJ
Kilocalories 488 kcal
Fat 24 g
Saturated fatty acids 14 g
Mono-unsaturated fatty acids 8.2 g
Poly-unsaturated fatty acids 1.5 g
Carbohydrates 63 g
Of which sugars 47 g
Fiber 1.8 g
Proteins 4.6 g
Salt 0.32 g
Moisture 5.7 g
Pack size
120 grams
Preserve
Keep cool and dry. Do not store near strongly odorous products. Avoid direct sunlight. Best before: see packaging.
Other customers also viewed